---

Feb 12, 2018
El Programa de Incentivo Educativo (EIP) 2018. Cuidado Infantil del Estado de Nueva York, El Programa de Incentivo Educativo: 2018 Solicitud de becas y folleto informativo.
Dec 04, 2017
Educational Incentive Program (EIP) 2018. The Information Booklet and scholarship applications for the 2018 Educational Incentive Program are now available online. You can also apply online right on our website.
Nov 27, 2017
Interested in Becoming an On-Demand Trainer? Are you looking for new ways to train your staff? Do you need more flexibility with scheduling? Our On-Demand training can help! This feature gives you 24/7 access to a selection of our previously recorded webcasts, including handout materials. You are eligible to be an approved On-Demand Trainer if you're a Child Day Care Center Director or Director of a School-Age Child Care program. Once you're approved, simply pick a topic and schedule a training time that works best for you and your staff. Visit the On-Demand Web Based Training page for more information.
---

OCFS Reviewed Distance Learning Courses
Distance Learning Options (long-form)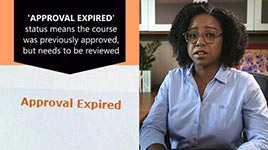 This video describes how to use the OCFS Reviewed Distance Learning Courses page, clarifies what courses count for training credit and which ones do not, and tells how to determine when a distance learning course can be used by providers to help them fulfill their required training hours.
The New York State Office of Children and Family Services, Bureau of Training offers FREE 24/7 online Mandated Reporter Training in Child Abuse and Neglect/Maltreatment Identification.
Read about the Child Development Associate (CDA) Credential
Download: Medication Administration Training (MAT) brochure (PDF format)
Go to our for providers page for more resources!
---

New York State Office of Children and Family Services
Professional Development Program

This website has been honored with a W3 Silver Award
---

---