About the CDA Credential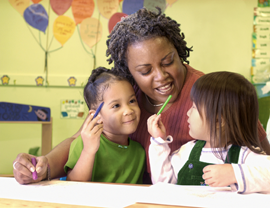 A Child Development Associate (CDA) is an individual who has successfully completed the CDA assessment process and has been awarded the CDA Credential. CDAs are able to meet the specific needs of children and work with parents and other adults to nurture children's physical, social, emotional, and intellectual growth in a child development framework. The CDA Credential is administered by the Council for Early Childhood Professional Recognition (The Council) in Washington DC.
Earning a CDA credential can improve your skills and confidence in working with children. It can also increase your opportunities for advancement in the early childhood field by helping you become eligible for positions such as Director, Group Leader, and Assistant Teacher. The CDA credential is also recognized in all 50 states and the District of Columbia. For more information about the CDA credential click on the boxes below and visit www.cdacouncil.org. For more information on early childhood job requirements in New York State, visit http://ocfs.ny.gov/ or www.earlychildhood.org.
Requirements for Obtaining a CDA Credential
Activity
Cost
Step 1
Anytime before application

Minimum of high school diploma/GED or enrolled in a high school career and technical education program *
120 hours of education in 8 Subject Areas

Step 2
Within three years before application
Step 3
Within six months before application

Professional Portfolio (PP) completed by Candidate
Family Questionnaires (FQ) gathered by Candidate

Step 4
Application

Candidate sends to the Council:
Candidate receives approval that application is complete and fee has been processed

Step 5
Within six months of Council approval of completed application

Verification Visit conducted by CDA Professional Development Specialist (chosen by Candidate):

Review of PP, FQs, transcripts/Certificates
Observation
Reflective Dialogue

Candidate takes CDA Exam at a local PearsonVUE testing center

Step 6
After Verification Visit and CDA Exam

Professional Development Specialist sends Verification Visit scores to the Council online
PearsonVUE sends exam scores to the Council online

Council awards or denies credential
*Enrolled in a family and consumer sciences education program in the area of Early Childhood Education/Child Development
CDA Credential Settings
There are four settings in which candidates can obtain a CDA credential:
Preschool: for Candidates working in a center-based setting
with children 3-5 years old.
Infant/Toddler: for Candidates working with children from birth to 36 months of age.
Family Child Care: for Candidates working with one or all age groups in a family child care home.
Home Visitor: for Candidates working with the parents of birth - 5-year-old children. Note: CDA training and assessment fees for the Home Visitor are not eligible for EIP scholarships.
All Candidates must also be able to identify an appropriate setting where they can be observed working as the lead caregiver. CDA training and assessment fees for the Home Visitor setting are not eligible for EIP scholarships.
CDA Training
Some training organizations and colleges offer CDA training programs specifically designed to prepare you for CDA candidacy and assessment. Before enrolling in a CDA training program, we encourage you to research your options and determine which will best help you obtain your CDA credential.
Training hours obtained as part of a CDA credential program may be applied toward your 30 hours of required training. Questions about using CDA related training to fulfill your regulatory training requirements should be directed to your Licensor or Registrar at the New York State Office of Children & Family Services. Any training taken as part of the 30 hours regulatory training requirement may help you meet the 120 hour CDA training requirement.
The Professional Development Specialist
In order to properly complete your credentialing process, you will need to find a Professional Development (PD) Specialist to conduct your Verification Visit. The PD Specialist brings the mentoring/coaching skills and ECE expertise needed to assess your competencies and facilitate your self-reflection during the Verification Visit. Before submitting your CDA application, you must identify a PD Specialist who is willing to conduct your Verification Visit AFTER the Council approves your application. After the Council receives and processes your correctly completed CDA Application and assessment fee, you will receive a Ready to Schedule Notice. You can proceed with the scheduling of your Verification Visit with your PD Specialist. To find a PD Specialist in your area, please visit http://www.yourcda.org/find-a-pds/pds_search.cfm.
Final Assessment
When you have completed the CDA (120 hour) training, 480 hours of work experience, your professional portfolio (PP) and gathered your family questionnaires (FQ) you should apply for your assessment. You can get more information from your trainer or visit the Council's website at www.cdacouncil.org.
When the above steps are complete, you send the Council the Application Form with the assessment fee of $425. You may include your valid, signed EIP scholarship award in your packet as proof of payment. Plan accordingly when preparing for your Final Assessment. Submit your request for EIP scholarship funding at least 4 weeks before your anticipated Assessment application to allow time to receive your EIP application decision. This begins the CDA Assessment Process.
After reviewing your application, the Council sends approval that the application is complete and the fee has been processed. Within 6 months of Council approval of completed application, a verification visit will be conducted by a CDA Professional Development Specialist (chosen by candidate). They will review the professional portfolio, family questionnaires, transcripts and certificates. They also observe and have reflective dialogue as part of the review. The candidate has to take a CDA exam at a local Pearson VUE testing center. After the verification visit and CDA exam are completed, a professional development specialist sends the verification visit scores to the Council online. Pearson VUE sends the exam scores to the Council online. The Council then awards or denies the Credential.
If you do not successfully complete the CDA Assessment which EIP paid for, you must refund EIP the full amount of your scholarship.
CDA Exam
The CDA Exam has 65 multiple-choice questions. Five of the questions have a photo and short narrative, followed by a multiple-choice question about each scenario. You will have up to one hour and 45 minutes to complete the exam. After the Council receives and processes your correctly completed CDA Application and assessment fee, you will receive a Ready to Schedule Notice. You can proceed with the scheduling of your CDA Exam with a Pearson VUE center. Pearson VUE will be the Council's partner for delivering the CDA Exam at testing centers throughout the country. Please visit the Pearson VUE website to find a testing center nearest you http://www.pearsonvue.com/cdaexam/.
Renewal
A CDA Credential is valid for three years from the date it is first awarded to you. After the first three year renewal period, you may renew your CDA credential every five years. EIP scholarships can be used to cover the cost of CDA renewal training programs as well as the CDA Renewal Fee of $150.00, or online Renewal Fee of $125. To apply for an EIP scholarship or find more information about the program, visit www.ecetp.pdp.albany.edu.
Breakdown of CDA activities and related costs
To qualify for any CDA activities or fees you must meet the continuous employment requirement.
Activity
Cost
Eligible for EIP funding?
CDA Preparatory Training
Varies depending on organization
Yes
CDA textbook and training materials
Varies depending on item
No
CDA Initial Application Packet
$25 per setting plus shipping and handling
No
Formal Observation
Paid by the CDA Council to the PD Specialist
No
CDA Final Assessment Fee
$425
Yes
CDA Renewal Application Packet
$15
No
CDA Renewal Fee
$150
*Online renewal fee is $125
Yes