About the CDA Credential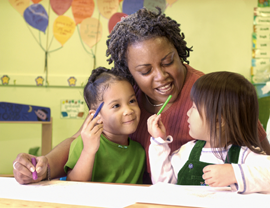 A Child Development Associate (CDA) is an individual who has successfully completed the CDA assessment process and has been awarded the CDA Credential. CDAs are able to meet the specific needs of children and work with parents and other adults to nurture children's physical, social, emotional, and intellectual growth in a child development framework. The CDA Credential is administered by the Council for Early Childhood Professional Recognition (The Council) in Washington DC.
Earning a CDA credential can improve your skills and confidence in working with children. It can also increase your opportunities for advancement in the early childhood field by helping you become eligible for positions such as Director, Group Leader, and Assistant Teacher. The CDA credential is also recognized in 49 states and the District of Columbia. For more information about the CDA credential click on the boxes below and visit www.cdacouncil.org. For more information on early childhood job requirements in New York State, visit www.ocfs.state.ny.us or www.earlychildhood.org.
Requirements for Obtaining a CDA Credential
As a CDA candidate, you must meet the following requirements before participating in the final CDA assessment:
Be 18 years of age or older
Hold a high school diploma or GED
Have 480 hours of experience working with children within the past five years
Have 120 clock hours of child care education within the past five years
As a CDA candidate, it is your responsibility to meet all these requirements. In addition, you must also find an approved field advisor, compile your resource file, arrange for payment to be made for any training you need to take, and apply for your final CDA assessment.
CDA Credential Settings
There are four settings in which candidates can obtain a CDA credential:
Preschool: for Candidates working in a center-based setting
with children 3-5 years old.
Infant/Toddler: for Candidates working with children from birth to 36 months of age.
Family Child Care: for Candidates working with one or all age groups in a family child care home.
Home Visitor: for Candidates working with the parents of young children.
All Candidates must also be able to identify an appropriate setting where they can be observed working as the lead caregiver. CDA training and assessment fees for the Home Visitor setting are not eligible for EIP scholarships.
CDA Training
CDA candidates must obtain a minimum of 120 clock hours of formal child care education. This training can be obtained through participation in the wide variety of professional development activities available in the field, including in-service. While the formal education hours can be credit or non-credit, the training must be delivered by one or more training organizations with expertise in early childhood teacher preparation. The organization(s) must provide verification of the candidate's education in the form of a transcript, certificate, or letter.
Some training organizations and colleges offer CDA training programs specifically designed to prepare you for CDA candidacy and assessment. Before enrolling in a CDA training program, we encourage you to research your options and determine which will best help you obtain your CDA credential.
The 120 clock hours of education must be documented, with no fewer than 10 hours in each of the following content areas:
Planning a safe, healthy, learning environment
Steps to advance children's physical and intellectual development;
Positive ways to support children's social and emotional development;
Strategies to establish productive relationships with families;
Strategies to manage an effective program operation;
Maintaining a commitment to professionalism;
Observing and recording children's behavior; and
Principles of child development and learning.
Training hours obtained as part of a CDA credential program may be applied toward your 30 hours of required training. Questions about using CDA related training to fulfill your regulatory training requirements should be directed to your Licensor or Registrar at the New York State Office of Children & Family Services. Training taken within the past five years as part of the 30 hours regulatory requirement may help you meet the 120 hour CDA training requirement.
For more information, including a full description of the eight CDA competency areas, visit http://www.cdacouncil.org.
The Field Advisor
You are responsible for choosing a qualified early childhood professional—a Field Advisor—to collect information about your work with young children and families. The purpose of the formal observation is to provide evidence of your hands-on skill working with children. The Field Advisor observes you working as lead teacher with young children in an eligible setting, and records your performance using the CDA Assessment Observation Instrument. To find out what qualifications field advisors must have, visit http://www.cdacouncil.org or http://www.ecetp.pdp.albany.edu.
New in 2009, you can access funding for up to 12 hours of interaction with a field advisor for consultation.
Final Assessment
When you have completed or are close to completing the training and work experience requirements for the CDA, you should begin working on the requirements for CDA assessment. These requirements are completed in three phases: preparation of necessary materials, filing of application, and verification of competence and knowledge. For more information about these steps, consult your trainer and field advisor or visit The Council's website.
When the above steps are complete, you and your Field Advisor sign the Application Form and send it to The Council with the assessment fee ($325) and training documentation. You may include your valid, signed EIP scholarship award in your packet as proof of payment. This begins the CDA Assessment Process. After reviewing your application, The Council assigns a Council Representative to conduct the Verification Visit and Final Assessment.
EIP scholarships cannot be used to cover the cost of the CDA application packet.
The Council uses the following timetable to schedule Final Assessment visits:
| You must apply before... | To be assessed during... |
| --- | --- |
| December 1st | January, February, March |
| March 1st | April, May, June |
| June 1st | July, August, September |
| September 1st | October, November, December |
Plan accordingly when preparing for your Final Assessment. Submit your request for EIP scholarship funding at least a month before your Assessment application deadline to allow time to receive your EIP application decision and send all required materials to The Council in Washington.
If you pay for your Final CDA assessment, you may also apply for an EIP scholarship to cover your Final Assessment fee. The CDA Council will refund your initial payment when it receives payment from EIP.
If you do not successfully complete CDA preparatory training or your Final Assessment for which EIP pays, you must refund EIP the full amount of your scholarship.
Second Setting
You may choose to pursue a CDA in a second setting. There are additional requirements associated with Second Setting CDAs. For more information, visit http://www.cdacouncil.org.
EIP scholarships can be used to cover the Second Setting Assessment fee of $225.
Renewal
A CDA Credential is valid for three years from date it is first awarded to you. After the first three year renewal period, you may renew your CDA credential every five years. EIP scholarships can be used to cover the cost of CDA renewal training programs as well as the CDA Renewal Fee of $50.00.
EIP Scholarships
Eligibility for EIP scholarships is based on your employment status, your household income level, and the educational activities for which you request funding.
Applications for CDA assessment are not income based. Everyone who is otherwise eligible will be able to access the assessment fee up to their maximum award amount.
Applicants must work directly with children or supervise child care staff in a facility regulated by the New York State Office of Children & Family Services or the New York City Department of Health.
Scholarship amounts are determined using your household size and income as reported on your most recent IRS Form 1040. See 2009 income chart on page 7.
Training and courses must reflect one or more of the nine regulatory training topics. For a list of topics, see pages 4-5 of this booklet.
Applicants must provide a complete application by the appropriate deadline to be approved for scholarship.
| For training that begins between... | Your complete application must be submitted between... |
| --- | --- |
| January 1 and June 30, 2009 | January 1 and June 2, 2009 |
| July 1 and December 31, 2009 | May 18 and December 1, 2009 |
Apply for an EIP scholarship or find more information about the program.
Breakdown of CDA activities and related costs
| Activity | Cost | Eligible for EIP funding? |
| --- | --- | --- |
| CDA preparatory training | Varies depending on organization | Yes: Up to 120 hours for a max of $1500 per year for Upstate applicants; Up to $2000 for Downstate applicants |
| CDA Final Assessment Fee | $325 | Yes: Approved for eligible applicants regardless of income level |
| CDA Application Packet | $23 per setting plus shipping and handling | No |
| Formal Observation | Varies | Yes: Up to 3 hours for a max of $84 per year per individual |
| Field Advisement | Varies | Yes: Up to 12 hours for a max of $336 per individual |
| CDA textbook and training materials | Varies depending on item | No |
| CDA Second Setting and Renewal | $225 for Second Setting $50 for Renewal | No |