PDP Projects Win 22nd Annual APEX Awards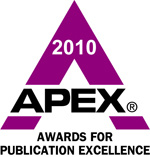 Two projects developed recently by the Professional Development Program (PDP) have received APEX Awards of Excellence for Education and Training in the Electronic and Video Publications category: the Tobacco Recovery Resource Exchange e-Learning Hub, and Preventing Shaken Baby Syndrome, an e-learning course.
The Tobacco Recovery e-Learning Hub, provides 26 hours of free online training aimed at providing chemical dependence service programs the knowledge and skills that staff need to provide tobacco dependence education and treatment interventions to their patients. Developed under contract with the NYS Office of Children and Family Services, the Preventing Shaken Baby Syndrome course, alerts NYS child care professionals to the signs and symptoms and potentially life-threatening consequences of shaking a baby.
APEX is the Annual Awards for Publication Excellence Competition. It is open to communicators in corporate, nonprofit and independent settings. This year marked the 22nd annual APEX, which began in 1988. APEX is sponsored by the editors of Writing That Works, a bimonthly newsletter for communicators who write, edit and manage business publications. Writing That Works is published by Communications Concepts, Inc., providing problem-solving information to professional communicators since 1984.